Cabell Virtual Learning Academy Registration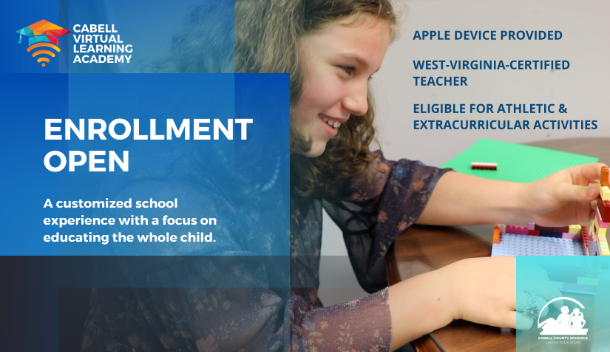 Cabell Virtual Learning Academy (CVLA) enrollment is now underway for the 2022-2023 school year. Parents or guardians may complete registration forms online by visiting the Cabell County Schools website, www.cabellschools.com. Registration should be completed by August 5, 2023, at 11:59 PM.

With CVLA, Cabell County Schools offers off-campus virtual learning for students in kindergarten through the 12th grade. The customized public school program provides a comprehensive option for families who choose to approach education within their own home.

Traditional home-schooled students may take courses through a part-time program. CVLA also offers a full-time student option, which allows students to earn a diploma from Cabell Midland High School or Huntington High School.

Full-time Cabell County virtual students:

Receive instruction from state-certified Cabell County teachers in core classes and related arts (K-8)
Receive use of an Apple device
Follow the Cabell County Public Schools calendar
Have access to a school counselor
Receive special education services (as appropriate)
Are eligible to participate in activities and athletics at their zoned Cabell County schools
Receive report cards
Take accredited courses

Cabell County full-time virtual students are required to participate in state-mandated assessments.

For more information, please contact Joe Thacker, Coordinator of Virtual Learning, by email at joe.thacker@k12.wv.us or by calling (304) 528-5098.