Return to Headlines
Cabell County Schools Expands Paper Online Tutoring Partnership to Include all Students in Grades 5-11
Cabell County Schools is pleased to announce it has expanded its partnership with Paper™, a provider of unlimited, 24/7 academic support, to offer its online tutoring services to all district students in grades 5-11.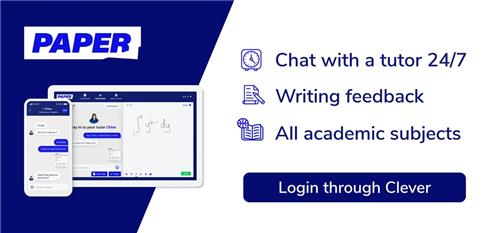 At the beginning of the 2022-2023 school year, the West Virginia public school district announced that students in grades 6-9 would be the first in the state to gain access to Paper at no cost to students and families. By expanding Paper's services to include students in grades 5, 10, and 11, more than 6,000 of the district's students are now immediately able to utilize Paper.
"By expanding our partnership with Paper, we're offering even more of students and families free, around-the-clock learning assistance from the comfort of home," said Dr. Ryan S. Saxe, Superintendent of Cabell County Schools. "The easy-to-navigate online platform employs trained tutors who, instead of providing answers, guide students toward finding their own solutions. We've received very positive responses from students and families already utilizing Paper, and I am hopeful the expansion to three additional grade levels will yield similar benefits for those students."
Paper's tutors and educational instructors deliver on-demand, personalized support that complements what students are learning in their classrooms, all while keeping teachers informed. Teachers may monitor their students' interactions with Paper so they can quickly identify and address concepts the children might be struggling to master.
Paper supports parents and caregivers by helping them avoid the cost, time, and stress of relearning instructional information or hiring private tutors to help their child with classwork.
"For example, a parent might not have a full understanding of advanced math concepts taught in an algebra or calculus course," said Kelly Watts, Deputy Superintendent over Instruction and Leadership for Cabell County Schools. "Instead of becoming frustrated, or worse, giving up altogether, a student and their parent can log into Paper together and ask a tutor for assistance. By doing so, the parent is still showing support for their student's learning while actively taking a step toward eliminating obstacles to completing assignments. It is empowering for parents."
Cabell students and parents in grades 5-11 may now access Paper through the Clever portal or by following the link to "Paper Online Tutors" found under the "Families" heading of the district's website, www.cabellschools.com, or under the "Families" heading of each school's website. There is also a mobile app available for download from the Apple and Google Play app stores.